the knickname "digger"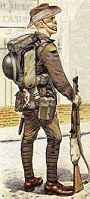 A WW1 "Digger" from the 29th bat.
(Courtesy of Ted Harris - 42nd Bat AIF)
The nickname "Digger" was gived to the Australian soldier during World War 1 the same way as "Tommy" for the British or "Poilu" for the French. Since XIXth century, Australia was one of the place in the world where gold could be found, originally, the name digger was for those looking for gold. By analogy, the word was used for Australian soldiers in the war starting from their involvement in the battle of the Somme in 1916, in the terrible Pozières sector. Many were perhaps former gold miners used to dig but all of them, because of trench warfare and like the others on the frontline, had to move tons of ground. When knowing its meaning, the nickname, still used for Australian soldiers, is a good image of what was this war.